In live-streaming, China stands as a formidable force, and at its helm is Huya, an undeniable titan among the nation's premier live-streaming platforms. Once on the verge of merging with its worthy competitor DouYu, which is under the expansive control of Tencent, Huya has continued to assert its dominance as a major player in the vibrant and ever-growing industry.
Huya is not only a platform that has not just survived but thrived amidst fierce competition. Huya's story is one of resilience and adaptability, an ode to its enduring commitment to provide a platform where content creators and viewers alike can come together to celebrate their passions. Huya's appeal lies in its multifaceted approach to content. It is not merely a platform; it's a diverse ecosystem where eclectic interests and passions converge. From the undeniable energy of esports tournaments to the soothing allure of cooking shows, Huya caters to a diverse audience with a wide array of content genres. It's a place where gamers, food enthusiasts, sports aficionados, and lovers of real-life experiences all find their niche.
The platform's dedication to hosting esports broadcasts, including popular titles like League of Legends and Honor of Kings, has solidified its reputation as the go-to destination for gaming enthusiasts. It's not just about the games; it's about the sense of community that forms around them, with fans and creators uniting to celebrate their shared love for competitive gaming.
And then, there's the enchanting realm of In Real Life (IRL) streaming. Here, content creators open the doors to their lives, sharing moments of joy, laughter, and even vulnerability with their audience. From heart-to-heart conversations to spontaneous adventures, IRL streaming on Huya bridges the gap between creators and viewers, fostering genuine connections in the digital age.
The top ten streamers on Huya for 2023 represent a captivating blend of content genres, reflecting the platform's remarkable versatility. From the thrilling world of esports to the cosy comforts of IRL streaming, Huya's content creators span a spectrum of interests and preferences. It's this diversity that makes Huya a thriving ecosystem, where viewers are spoilt for choice.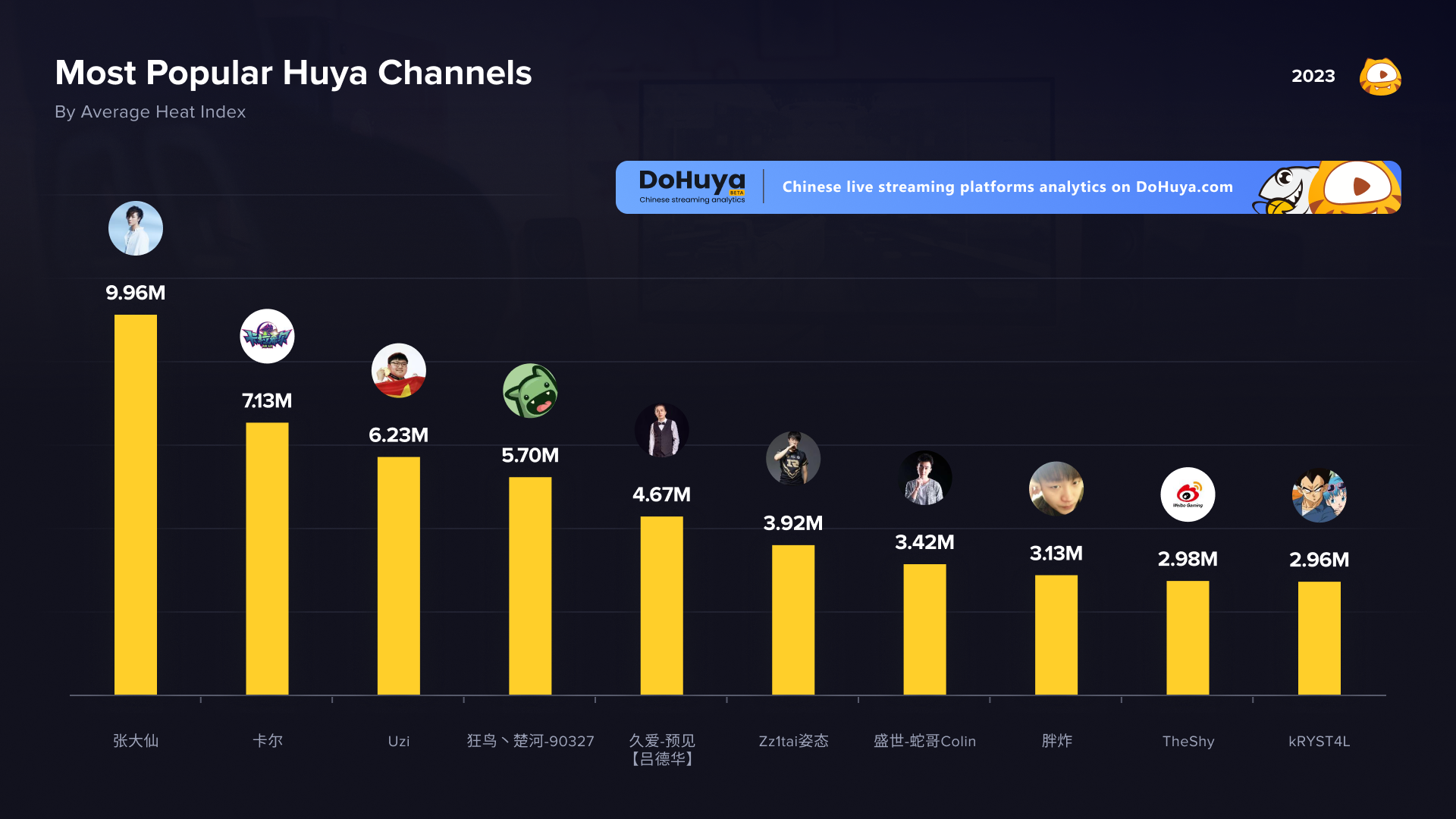 1.

张大仙 - 9 961 153 Average Heat Index

张大仙 is the most popular streamer on Huya across 2023 and by a large margin. He built up an audience as a video game streamer, particularly the popular mobile game Honor of Kings. He was originally a streamer on DouYu but moved to Huya a few years ago. Since then, he has continued to build a following with his entertaining gameplay and commentary.
2.

卡尔 - 7 134 497 Average Heat Index

卡尔, or Carl, is one of the Huya superstars that has emerged in recent years. He has built an audience as a League of Legends streamer, focusing on creating short-form videos as well as his live content. MOBA games are hugely popular on Huya, and Carl has utilised this popularity to build a large live-streaming following on the platform.
3.

Uzi - 6 234 381 Average Heat Index

Uzi is a professional League of Legends esports player who is widely known both in China and internationally. He built a reputation as a highly mechanical AD Carry and was the first player to ever reach 500 games in the LPL, the Chinese professional League of Legends circuit. He currently plays for EDward Gaming as a Bot Laner.

Uzi's content on Huya focuses on League of Legends and applying his strengths as a professional player to draw in and captivate viewers. His reputation in League of Legends has made him a fan-favourite player for many people, which he used to help begin his live-streaming career.
4.

狂鸟丶楚河-90327 - 5 704 249 Average Heat Index

狂鸟丶楚河-90327 is a Huya streamer with a focus on variety gaming content and not pigeon-holing himself into one specific game or kind of stream. Some of his most popular content is his gaming streams, where he covers a large variety of video games. Payday 3, Beast Party, and Children of the Forest are just some of the games that he has covered live on Huya.
5.

久爱-预见【吕德华】 - 4 667 748 Average Heat Index

久爱-预见【吕德华】is a streamer who mainly covers the largely popular mobile game Honor of Kings. Mobile games and MOBA games are two of the most popular game genres in China, so matching these together seems like a no-brainer to create a large possible fanbase for your stream. 久爱-预见【吕德华】is one of the largest Honor of Kings streamers on Huya.
6.

Zz1tai姿态 - 3 922 754 Average Heat Index

Zz1tai姿态, otherwise known as Zz1tai, is a retired League of Legends professional esports player. He previously played with the team Royal Never Give Up as a Top Laner. He retired in 2019 after collecting almost 8 years of experience in the professional League of Legends scene.

Now his career has evolved into a professional content creator and live streamer, however, his content is not exclusively related to League of Legends. League of Legends makes up a large portion of his live-streams, but he also goes live playing games like Player Unknown's Battle Grounds, Valorant, and many more.
7.

盛世-蛇哥Colin - 3 419 994 Average Heat Index

盛世-蛇哥Colin is another retired League of Legends player, who previously was a substitute player for Snake Esports. He also acted as a caster for some Chinese League of Legends events. After retiring from competitive esports in 2015, he transitioned into live-streamer where he now covers various MOBA games live on stream.
8.

胖炸 - 3 134 105 Average Heat Index

胖炸 is not a retired professional but still works as a League of Legends streamer on Huya. he does occasionally deal with real-life content and other games, but the large majority of his live-streams are to do with League of Legends.#
9.

TheShy - 2 981 594 Average Heat Index

TheShy is a current professional League of Legends player from South Korea. He previously played with Invictus Gaming but currently plays as a Top Laner for Weibo Gaming, the gaming organisation founded by the social media company Weibo. He streams League of Legends content and is the first non-Chinese person to rank on our list of the top 10 Huya streamers of 2023.
10.

kRYST4L - 2 962 228 Average Heat Index

kRYST4L is a retired Chinese professional League of Legends player who finished his esports career in 2019. Nowadays, he has recently primarily streamed Valorant to his live-stream channel.

Platforms like Huya have not just risen but have soared to prominence, creating a thriving environment where content creators and viewers coexist harmoniously. It's evident that this platform appeals to a diverse range of interests, from the excitement of competitive gaming to the intimate moments of real-life adventures. These content creators have transcended mere entertainment; they've become cultural icons shaping the future of China's vibrant streaming industry.

Whether you're drawn to the competitive fervour of gaming or the heartwarming allure of everyday experiences, Huya offers all flavours of content that cater to every viewer's taste in the world of Chinese live streaming. It's a testament to Huya's enduring legacy in shaping the digital landscape of China.