In the world of Chinese live-streaming, DouYu has firmly established itself as a powerhouse of entertainment and the go-to option for millions of fans. With millions of streamers and viewers connecting daily, the top creators and streamers on the platform are quickly becoming local and international celebrities. Join us in unveiling the top 10 streamers on DouYu in 2023. These streamers are community builders who have captured the hearts and screens of audiences across China and beyond. From gaming gurus to comedy kings to outdoor adventurers, they represent the essence of DouYu, where dreams become reality, and entertainment knows no bounds.
In our rankings, we will use our metric Average Heat Index. This utilises DouYu's Heat Index, a metric for measuring the success and popularity of any given streamer, and finds an average figure for their Heat Index across multiple broadcasts. Heat Index is an interesting metric compared to concurrent viewers, as it includes many variables such as interaction with the streamer, viewer engagement, and more than just the total amount of people watching at any given moment. For this ranking we've collected the data on the top streamers on DouYu who recorded over 100+ hours live throughout 2023.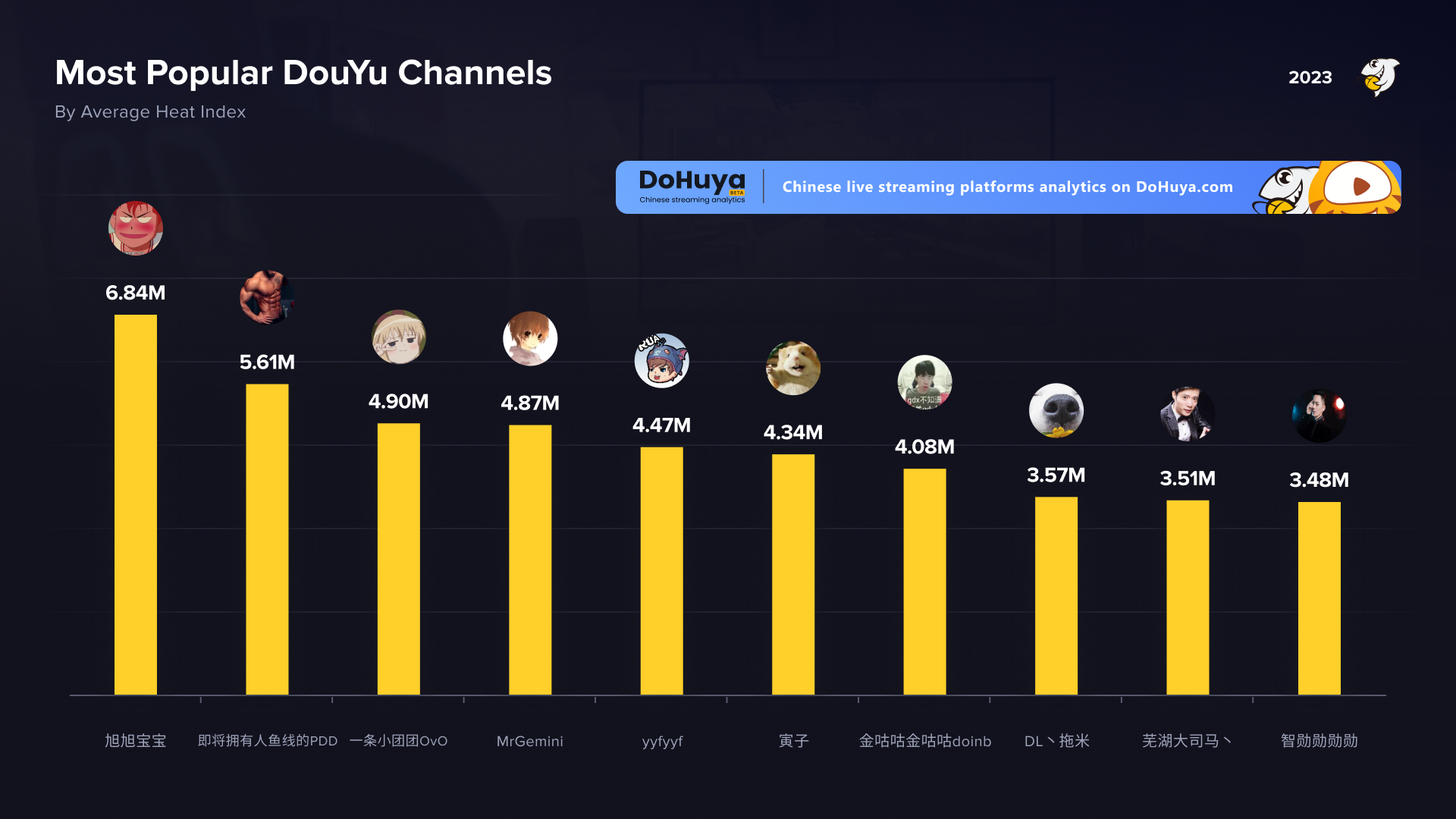 1.

旭旭宝宝 - 6 843 178 Average Heat Index

旭旭宝宝 joined DouYu in 2018 and quickly became one of the most popular streamers on the entire platform. Now in 2023, he remains the most popular channel on the entire site per his Average Heat Index. He is well known for playing Dungeon Fighter Online, a game developed in South Korea and published in China by Tencent.
2.

即将拥有人鱼线的PDD - 5 608 264 Average Heat Index

即将拥有人鱼线的PDD, otherwise just known as PDD, is a League of Legends streamer on DouYu and has consistently been one of the top streamers for the platform across recent years. PDD previously competed in the LPL, China's professional League of Legends circuit, before opting to retire as a player and become a founder and coach for various teams.

Young Miracles was his most famous team, which he founded and acted as Head Coach for. Young Miracles competed in the LDL, a developmental league for talent in China, and was very successful. The Young Miracles brand because associated with producing talented star players and in 2021, PDD was inducted into the LPL Hall of Fame.
3.

一条小团团OvO - 4 902 515 Average Heat index

一条小团团 is the first female streamer on our list and she's one of the most popular creators on DouYu. She built up a successful following as a streamer known for playing PUBG, but she also branches out into other games like League of Legends. She is well-known not only on the live-streaming platform but also on other social media like Weibo. In August 2021, she was the top-ranked celebrity on Weibo's list of the most popular internet personalities.
4.

MrGemini - 4 872 095 Average Heat Index

MrGemini, known more widely as simply Gemini, is a popular streamer for Honor of Kings, which is a hugely popular MMO in China known internationally as Arena of Valor. Gemini is the second streamer on our rankings who is a former esports professional, having previously competed in both Starcraft II and Heroes of the Storm.

He eventually competed in Honor of Kings events, acting as a coach for the QG Happy team. He's credited with revolutionising how teams played and bringing ideas from other games into the esports discipline. He is most well known for bringing his Honor of Kings team to a Grand Slam of three titles in 2017. He retired from competitive play in 2019 and has since become a full-time streamer.
5.

Yyfyyf - 4 474 867 Average Heat Index

Yyfyyf, or yyf, is another ex-professional esports player who managed to turn his successful esports career into a streaming job. Yyf started competing in esports events in 2005 and eventually moved on to Dota 2 in 2008. In 2011, he was recruited by Invictus Gaming and began competing under their name.

In 2012, Invictus Gaming were invited to The International 2012, the largest Dota 2 event of the year. The Chinese roster was hugely successful and impressive throughout the Group Stage, boasting a 13-1 record. Natus Vincere were responsible for knocking them out of the Winners Bracket, but Invictus Gaming came back strong and was able to triumph over Natus Vincere in the Grand Finals to take home the $1M USD prize pool. Two years later, he announced his retirement from professional esports and signed a contract to become a full-time content creator and streamer. Since then, he's won multiple awards for his streaming career and continued to captivate fans with his stellar gameplay.
6.

寅子 - 4 343 208 Average Heat Index

寅子 was previously a teacher and remains a huge basketball fan. He speaks three languages, English, Thai, and Chinese. He currently is active on DouYu as a variety content streamer. His recent content includes gameplay of various games, oftentimes sports games dealing with his sporty nature and passion. He also streams and covers basketball games on his channel, while still managing to stay on top of gaming trends like covering Baldur's Gate 3 on release.
7.

金咕咕金咕咕doinb - 4 080 335 Average Heat Index

金咕咕金咕咕doinb is our first foreigner to the Chinese platform to rank so highly with the Average Heat Index. Doinb is a Korean ex-professional League of Legends player and well-known within the discipline, having played over 600 matches in the LPL, China's professional League of Legends circuit. He was the fifth-ever player to reach such a milestone.

He debuted in professional LoL in 2015 and has since received the LPL MVP award three times. He has been victorious in many LPL Splits, but his claim to fame is his victory at Worlds 2019, the largest international event of the year for League of Legends. After such a hugely successful League of Legends career, he now focuses on showcasing his skills live and entrancing audiences with his high-level gameplay.
8.

DL丶拖米 - 3 569 191 Average Heat Index

DL丶拖米 is a smaller streamer on the list compared to others we've looked at, with only 72K members on his fan board on DouYu: his ranking on this list is proof of one of the advantages of the Heat Index over traditional ranking metrics like Followers count or concurrent viewers. He is a variety streamer who is known to enjoy classic Shooters like CS:GO, react to content live on stream, or watch esports events as a community caster.
9.

芜湖大司马丶 - 3 507 445 Average Heat Index

芜湖大司马丶is an ex-professional League of Legends coach with over 23M followers on DouYu. Although another League of Legends professional, he wasn't able to reach the same heights as other players on this list, and his team CC Club disbanded after roughly 7 months of competing. After moving on from LoL, he joined DouYu in 2016 and began his journey to become one of the top streamers on the site. He recently has been focusing his streams on fighting game content, Street Fighter 6 in particular, but he still shows his passion for MOBA games on stream sometimes.
10.

智勋勋勋勋 - 3 484 911 Average Heat Index

智勋勋勋勋 is the final streamer of our rankings, but his popularity is not to be underestimated considering his over 12M followers on the Chinese live-streaming platform. He's largely known for his relaxing reaction streams and gameplay for League of Legends.

Each of these celebrity streamers has carved a unique niche and fostered vibrant communities, bringing wonderful content to their loyal fans. After looking at the most popular streamers on DouYu so far in 2023, we are reminded that the platform's true joy is found in its diversity and the boundless creativity of the streamers. Let's not forget that it's the viewers who breathe life into these statistics, actively engaging with their favourite streamers, and driving the DouYu community forward. The most popular streamers of 2023 on DouYu would not be here without their loyal and supportive fanbases, and these are the people who are in a way responsible for live-streaming becoming a global phenomenon.